Adagio
Downloads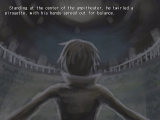 About the game
Author: 17
Translator: Irene Ying (translation website)
Genre: Short Sound Novel
System: ONScripter (usage & troubleshooting)
ONScripter is licensed under the GNU GPL. Full source code for this version is here.
A young composer passes by an auditorium and chances upon a dancing performance that changes his very life ...