A Dream of Summer
ヒトナツの夢
Downloads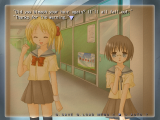 About the game
Author: milk cat
Translator: DejaVu (translation website)
Genre: School romance
System: ONScripter (enhanced) (usage & troubleshooting)
ONScripter is licensed under the GNU GPL. Full source code for this enhanced version is here.
Toshiki, the realist.
Mizuna, the girl he met on the roof.
And BROY, the school band whose members surround them.
It's the summer of their third year, and Toshiki must face not only the school festival, but also a promise that he may never be able to fulfil.