Night of the Forget-Me-Nots
勿忘草の夜
Downloads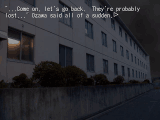 About the game
Author: Jewel Box
Translator: Eien Ni Hen
Genre: Horror
System: ONScripter (usage & troubleshooting)
ONScripter is licensed under the GNU GPL. Full source code for this version is here.
Makoto is on her way to the drama club's spring retreat when she gets lost in the woods, so she's pretty glad to meet up with another lost kid. Taking him under her wing, she heads for the old school where the retreat is going to take place, blissfully unaware of what lies in wait...

Eien Ni Hen's free talk
I've always been a big fan of horror games, so I'm delighted to be translating "Night of the Forget-Me-Nots" by Jewel Box. One of the things I've always loved about horror games is the eerie atmosphere, which I feel is brought to life through visual novels.
This is my first attempt at translating a visual novel, and I've realized that they're quite different in terms of style and pacing. What's more, they can make you laugh, cry, or in this case, send shivers dancing down your spine.