Wanderers in the Sky
空の迷い人
Downloads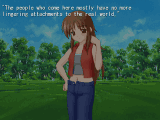 About the game
Author: のっか~
Translator: zalas
Genre: Short novel
System: ONScripter (usage & troubleshooting)
ONScripter is licensed under the GNU GPL. Full source code for this version is here.
The protagonist finds himself wandering in a world of loss, unable to remember exactly what was missing. Through the help of people in his life, he finally starts remembering ...

zalas's free talk
本文なし